I travel frequently for work. My American Airlines miles could fly a family of four around the world twice, and I finally figured out how to not look like a dweeb when I put my carry-on in the overhead compartment. Let my past mistakes be our guide as we look at how I packed for an overnight business trip.
The Trip: 1 night / Canada / On-site research / Late winter
Clothes
I work in UX design, so part of the challenge in figuring out what to wear for me is striking the balance between cool, casual and appropriate. Especially when traveling, my color palette is navy and black. All black makes me feel like a waiter, and light colors are too easily stained. When the client wants to take us out for Indian food at lunch, I'd better not be showing that Vindaloo on my shirt in afternoon meetings. So navy and black it is!
The key to packing the right clothes is not packing too much — but just enough. You're not traveling for fun; you're traveling for work, so there's no need for outfit changes before dinner or a more casual outfit for drinks. Chances are, I'm around the client for 12 hours at a time, so I need to stick it out in my work appropriate clothes. When I first started traveling for work, I would bring hoodies and jeans because maybe I would go out with my teammates after hours. After a few trips of lugging around clothes I never wore, I resigned myself to staying dressed up the whole way through.
Additionally, bringing things that you can layer that all go together is the way to go. I try to avoid packing the pants I have that only go with ONE shirt or ONE pair of shoes. If I have my lilac flats and I'm not digging them that morning, but they're the only thing that goes with the dress I brought, I'll spend the whole day feeling uncomfortable. So I try to keep it neutral and flexible.
For one night, I packed (or wore on the plane)…
1 pair of black legging pants (Uniqlo)

Comfort is key, and these look like real pants as long as your shirt covers the waist. I hate dress pants and I can't wear jeans to the client, so these are my compromise.

1 navy rayon tank (Uniqlo)
1 black cardigan (Gap)
1 navy cotton / linen tunic (COS)

COS is the store I splurge at. I also have this shirt in sky blue, and if I was going for another day, I would bring it as well.

2 pairs of black socks
2 pairs of underwear
1 bra (Chantelle)

I need pricier bras to keep everything where it needs to be… big chest problems.

1 winter / fall anorak (Levis)

A go-with-everything jacket that thankfully isn't a puffer. I bought it on sale last season so I unfortunately can't find a link.

1 winter hat (Norwich City Canaries :) )
1 pair of boots (diba)

I love these boots for traveling because you don't have to tie them. They slide on and off making the anxiety inducing (for me at least) TSA line just a little bit easier. I typically prefer my Doc Martens, but they aren't as client appropriate. On the other end of the spectrum, I've tried wearing heels and girl, no.

1 sleep T-shirt
1 pair of sweatpants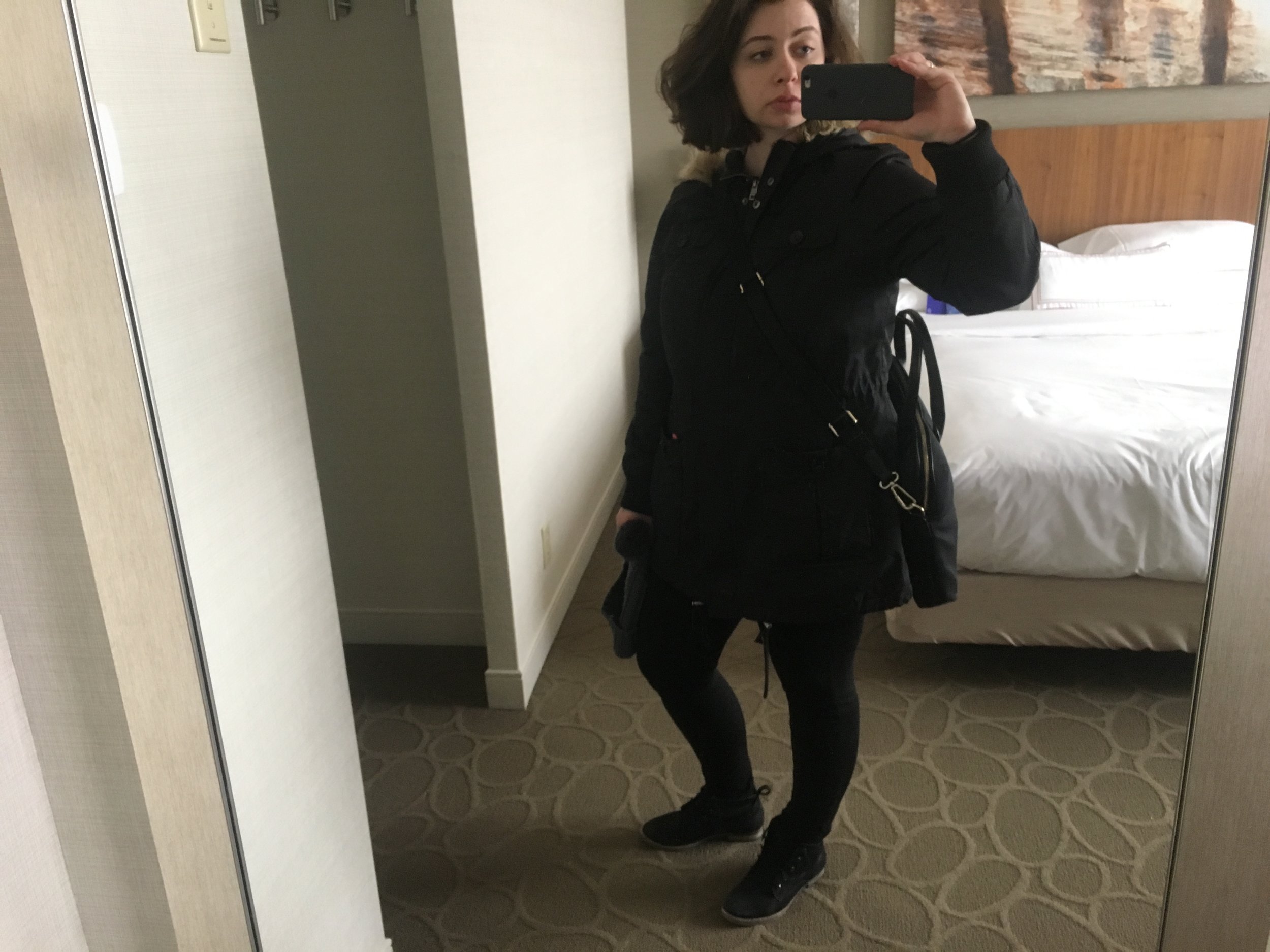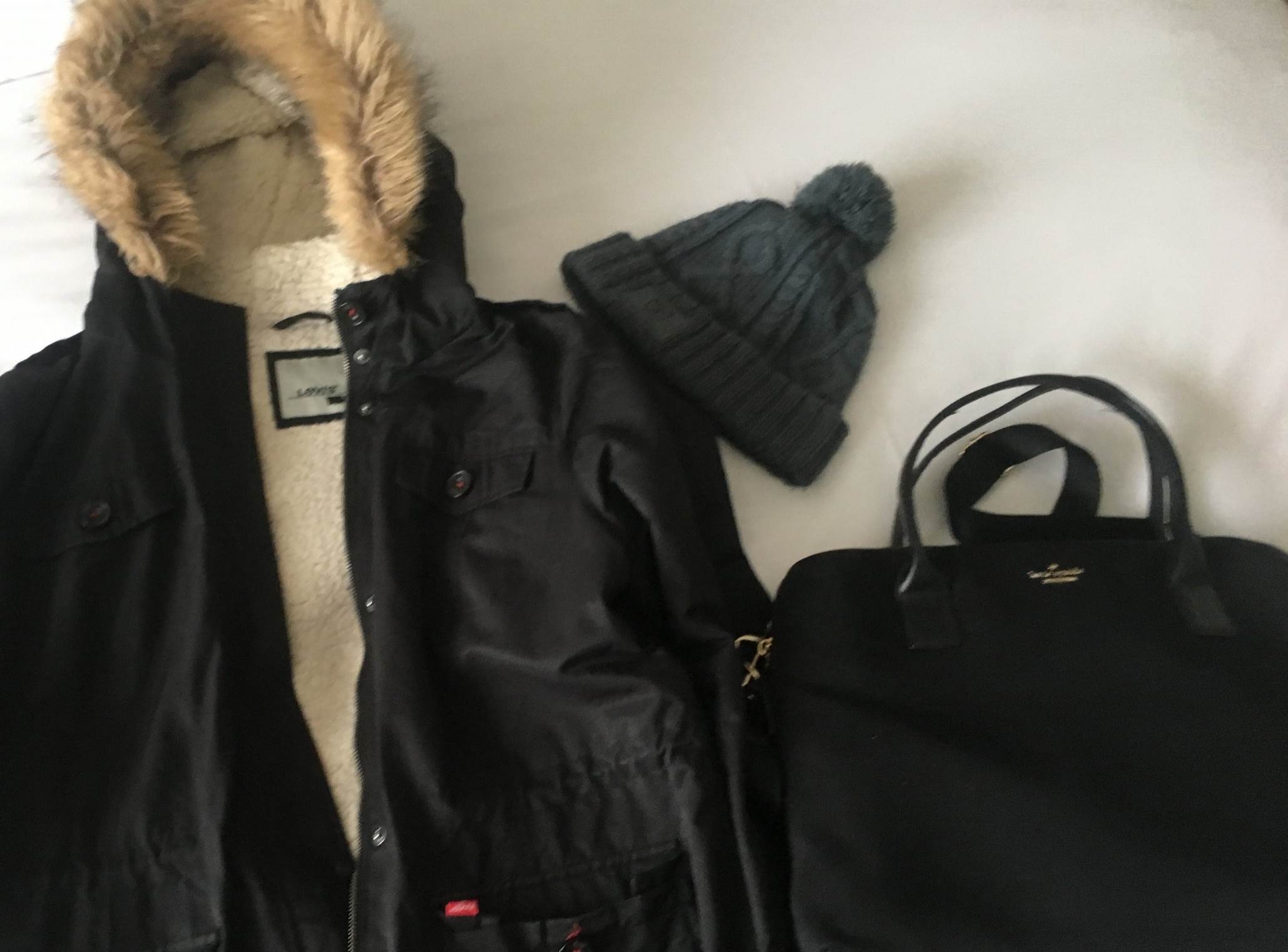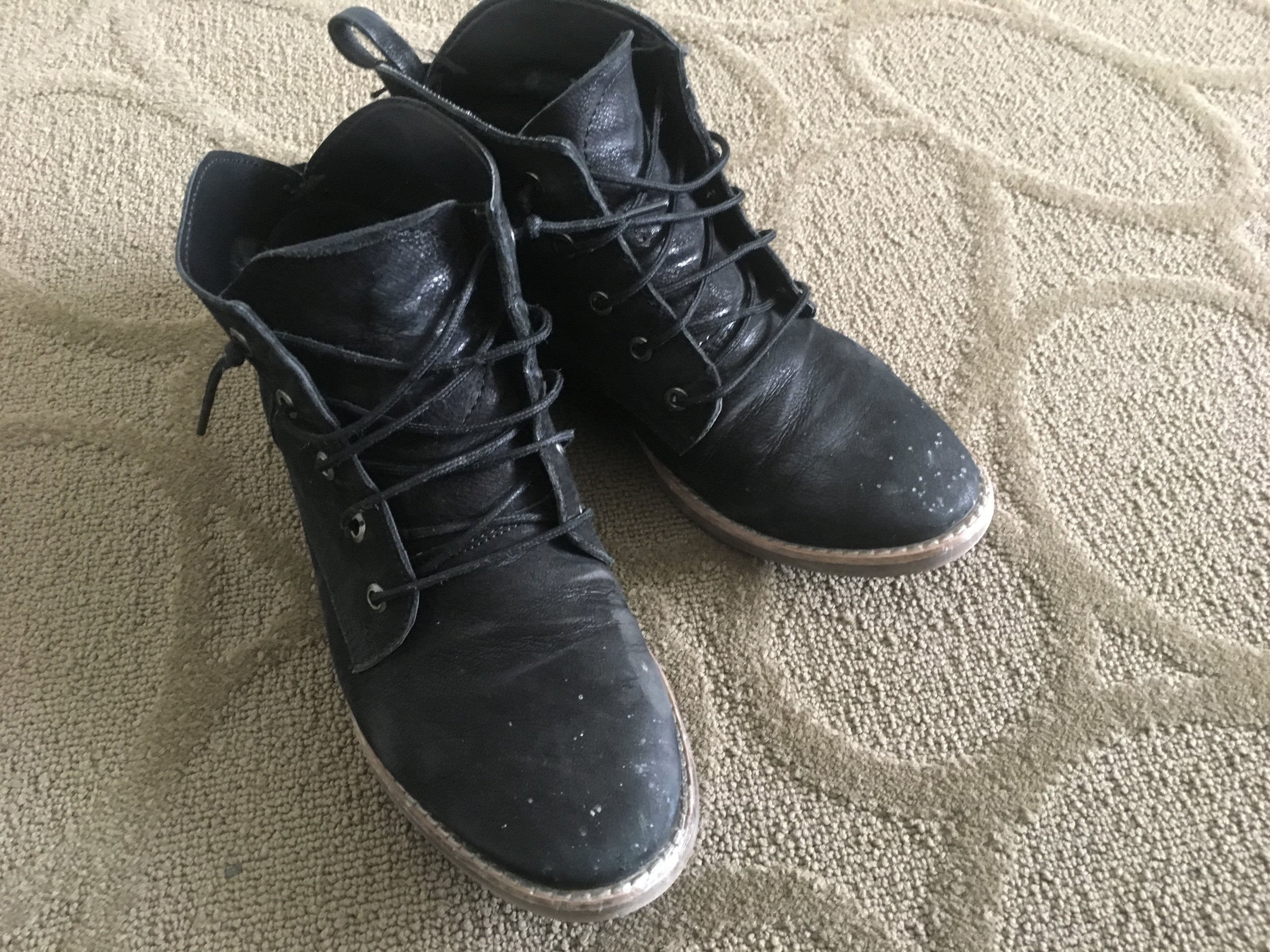 Accessories
This is my standard set of accessories. I don't do jewelry changes on trips because I fear that I'll leave something behind or lose something in transit.
Toiletries
I figured out the secret sauce to packing my toiletries after months of forgetting my shampoo and getting frizz-hair from hotel mini bottles. I have a bag that is only travel-sized liquid toiletries that I keep under my bathroom counter and don't touch unless I'm traveling. Now that I have that, I just grab it and go. The only thing I have to add to it are my liquid makeup products.
As a reminder, TSA only lets you bring liquids less than 100 ml (or 3 fluid oz.) on a flight. Whomp whomp.
Cetaphil face wash
Argan oil shampoo
Coconut conditioner
Toothpaste
Body Shop aloe face moisturizer (day and night)
Contact solution
Perfume (Burberry Brit)
Toothbrush
Deodorant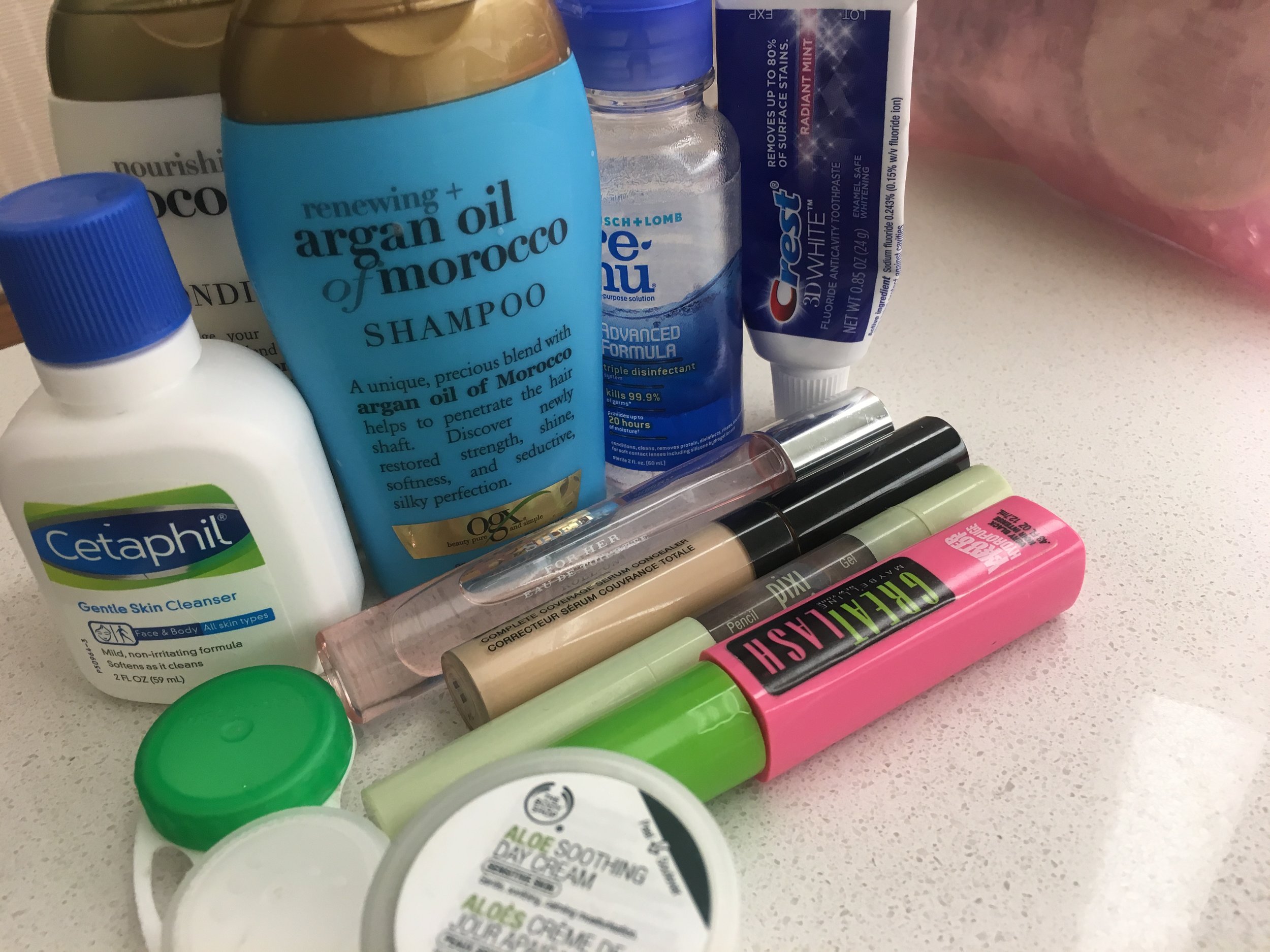 Makeup
I'll usually bring whatever is my most minimal makeup routine at the moment that still makes me feel comfortable in a professional setting. Typically, that means brows, foundation, blush, highlighter, mascara and a little bit of smudgey eyeliner.
Concealer (Bare Minerals)
Foundation (Bare Minerals)
Blush (Pixi)
Highlighter (Pixi)
Eyeliner (Pixi)
Eyebrow Gel (Pixi)
Mascara (Maybelline)
Under eye concealer (Glossier)
Bags
Finding the right bag for a business trip can be tough. I have a few that I rotate depending on the length of the trip — for one or two nights, my Osprey does me just fine. It converts between a hiking backpack and a duffle bag, so I wouldn't take it to a suit-and-tie client site (I'd bring a suitcase).
I also like to bring a laptop bag stuffed into my larger bag. Even if I'm bringing the big bag to the client's office, it's nice to have an option of leaving it behind in someone's cubicle and then just toting around a small bag. For that,I have a Kate Spade bag that I received as a graduation gift (you can see it in the outerwear pic above).
Some Other Tips:
Check for bed bugs before sitting on your hotel bed. Seriously. Don't put your suitcase on the hotel bed, either. That's how bed bugs come home with you.
I have my liquids, shoes and laptop readily accessible from the moment I get in line at TSA. No one wants to be the person holding up the queue.
Do your expense reports ASAP! I've had to dip into my own money to cover my corporate card bill because I procrastinated on the expenses.
Roll, don't fold, your clothes. You'll fit more.
Bring your ugly sweats and a sheet mask. At the end of a long day, you can curl up in a big fluffy hotel bed and feel like you're both at home on your couch and in a spa.
This is just the best way for me to travel and pack (for now!). Do you have any tips and tricks that I could learn from? Let me know in the comments, or head over to She Spends Facebook group to discuss.
- Jemma 🦄